Application range
Technical Parameters
Bag Sealing Type
Optional items
Equipment outline drawing
Characteristic

1.Made of stainless steel: totally adapt to the require of GMP or other food sanitation certification. Suitable for packing corrosive chemicals.
2.HMI using PLC plus touch screen: PLC has better stability and higher weighing precision, as well as is interference-free. Touch screen result in easy operation and clear control.
3.Filling system is driven by servo-motor: high precision, high torque, long operation life, and rpm settable.
4.Taiwan made maintenance-free reducer is used for agitating motor: low noise level, long operation life, maintenance-free for life time.
5.Designed for working condition changeable in any time.
6.Max. 10 recipes can be saved for later using.
7.Product cabinet is fully closed, damp air-pressure controlled, and made of glass with stainless steel. Product's movement in the cabinet is clear at a glance. No powder leak. Dust extraction device mounted in the mouth of the filling tube lead to clean plant enviroment.
8.Through changing accessories, the machine is suitable for multiple products, no matter super fine power or large grain..
| | | |
| --- | --- | --- |
| Packing weight | 1-500g (Different weight need change screw auger) | 1-500g(Different weight need change screw auger) |
| Weighing range | 0.2-800g(resolution ratio:0.1g) | 0.2-800g (resolution ratio:0.1g) |
| Packing precision | ≤0.3-1%(Depend on the packing weight and product) | weight>1000g ,precision <0.25%-0.5% |
| Packing speed | 15-60 bags/min | 10-50 bags/min |
| Power supply | 380/220V 50-60Hz | 3 phase , 380V or 220V ,50-60Hz . |
| Machine power | 800W | 1.8Kw |
| Machine weight | 150Kg | 260Kg |
| Machine bulk | 800X700X1900mm | 800X1200X2150mm |
| Hopper capacity | 26 L | 50 L |

1): Nitrogen filling function
2): Venting device
3): Gusset device
4): Hook the hole cutter seat
5): Date Printer

Related Product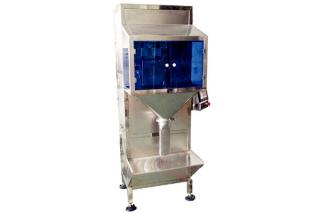 Liner weigher system
Characteristic 1.Double hopper weight alone separated from bags, with high working speed. 2.Feeder is adjustable with the proportion of materials ...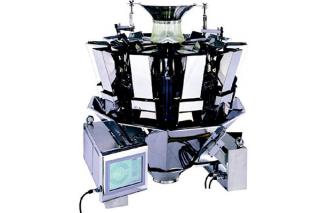 Mulihead weigher system
Characteristic Suitable for quantitative weighing candy, melon seeds, potato chips, pistachios, peanuts, nuts, fruit, jelly, frozen dumpling, biscu...